Colmena de los Golosotes es una de las mazmorras de Impact, hogar del Golosotrón Real.
Estadísticas de la Mazmorra
Ubicación: Mazmorras de Impact - [-63,-100]
Dificultad: Bajo/Medio
Nivel Recomendado: Grupo de 8 [230+]
Jefe: Golosotrón Real 
Acceso
Para acceder a esta mazmorra debes dirigirte al zaap de la ciudad de Astrub [4,-19] y hablar con el NPC Transportador a Mazmorras, este te llevará directo a la zona.
Sala del Jefe
Recompensas
Al terminar esta mazmorra encontrarás 2 NPC con los cuales podrás elegir y reclamar una parte de los set:
Vídeo de la Mazmorra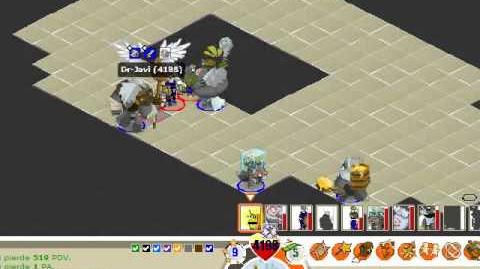 Comentario Táctico
Primero que nada he notado últimamente que al momento de armar o grupar personajes para ir a esta mazmorra la gente busca sobretodo ocras para reducir los PM al Golosotron real y de esta manera mantenerlo alejado, ya que este jefe baja gran cantidad de vida de un solo golpe. Esta técnica ayuda, pero resulta muy tediosa ya que el golo se encontraría lejos y no habría forma de bajarles gran cantidad de vida con algún arma, pero otra manera más sencilla es con otro personaje que aguante golpes, que lleve consigo altos % de resistencia y vida. Usen este personaje para que reciba los golpes del golo real y con ayuda de un curador mantenerlo con vida, mientras el resto de personajes se enfoca en acabar cómodamente de primero este monstruo fuerte. By El-Javi
Ad blocker interference detected!
Wikia is a free-to-use site that makes money from advertising. We have a modified experience for viewers using ad blockers

Wikia is not accessible if you've made further modifications. Remove the custom ad blocker rule(s) and the page will load as expected.